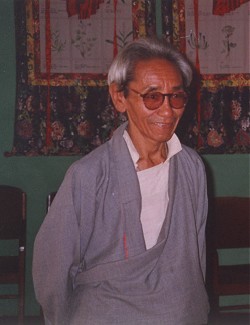 The venerable astrology professor Jampa Gyaltsen Dagthon was a central figure in promoting Tibetan Astrology in exile and building up Men-Tsee-Khang Astro. Department.

He was born in Lhasa and started in 1955 to study astrology in Kyirong among other higher sciences. A year after the Chinese invasion of Tibet in 1959 Jampa G. Dagthon escaped to Bhutan, where he worked at the Office of H.H. the Dalai Lama, as a teacher in addition to his astrological practice. In 1967 he was transferred to Dharamsala in North India, to work first in the Council for Home Affairs and later in the Council for Religious & Cultural Affairs for the Tibetan Government in Exile. Then he started to work for Men-Tsee-Khang and completed his studies in astrology as one of the first three astro-graduates from Men-Tsee-Khang in 1968.

In 1969 his astrology teacher professor Lodeo Gyatso retired and left the Astro. Department to Dagthon and his two colleagues, who later left for Canada. From 1973-1978 Jampa G. Dagthon run the office alone and taught astrology to the next generation of astro. graduates. In time, the Astro. Department grew bigger, and Jampa G. Dagthon continued as Senior Lecturer and Head of the Astro. Department until his premature death in 1997. He also served as a member of the Governing Body of Men-Tsee-Khang and a Vice-Chairman of the High Level Medical and Astrological Committee.

Jampa G. Dagthon was a great scholar and productive writer - in Tibetan. But fortunately some of his texts are translated in English by his student, lecturer Jampa Kalsang and have been published in various publications by Men-Tsee-Khang.

In 1991 he visited Denmark and joined the International Astrology Conference held in Copenhagen.